ViperMan is a setup management utility for Monster Gaming Inc.'s Viper Racing simulator, released in 1998.  Amongst its many talents are:
Edit setups outside the game, which is especially handy for copying them from an email or web page.  You can use the keyboard instead of clicking little up/down arrows if you wish.  It is aware of tracks that are both active and 'disabled' using Frank P Wolf's TrackMan v1.3b and cars that are active or disabled using CarMan v2.2.
Copy and paste setups from one slot to another, one track to another, or one VR installation to another.
Launch the game from one of multiple installation locations.
Launch Frank P Wolf's utilities from the selected installation location.
Open a Windows Explorer window in the selected installation location.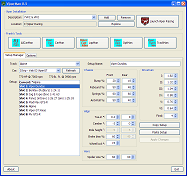 Currently this is beta software, so please back up your setups before using it. 
SetupViperMan-0.5.exe (369,636 bytes)